Project Accounting Australia (PAA) brings project professionals together through industry standardised approaches to project accounting.
Currently, many large organisations are investing in project accounting professionals and teams in order to take advantage of the hybrid accounting and project specialists. These specialists exist mainly from the many "tests" and "failures" that the industries have undergone in the past decade.
We are here to drive a standardised approach for organisations that may not have the investment appetite of large organisations, but are looking at increases in efficiency and utilisation of their current Accounting and Project functions.
We provide education and advisory services to businesses and business professionals in services in order to maximise the benefit of working together as a cross-functional team.
Dina Gofman is a Chartered Accountant, holds an AGSM MBA and is a Certified SCRUM Product Owner who specialises in Project Accounting. Dina's experience ranges across a multitude of projects and programs within a number of international organisations.
Her expertise ranges from delivery methodology translation, to system modelling integration for project accounting, as well as business case delivery and negotiation. Dina has spent the last few years working with project teams on large investment projects inclusive of both physical and conceptual deliverables.
In her spare time, Dina is passionate about multiple causes inclusive of various Australian Arts projects and working with financial literacy within underprivileged world-wide communities.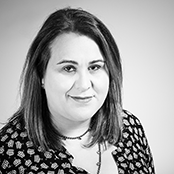 Lourdes Duggineni is a Certified Practising Accountant (CPA) and Certified in PRINCE2® and PMBOK. Lourdes has more than 20 years' experience in project accounting, project portfolio management and benefit tracking. Lourdes has worked on various major projects within Financial Services and Technology industries.
Her expertise ranges from setting up Centres of Excellence in project accounting, implementing project accounting methodologies, advisory and coaching. Lourdes is very passionate about project success and understands that the right project can make or break an organisation.
In her spare time, Lourdes is a Rugby Union Manager for her son's Under 11's team and enjoys project managing her daughter's ballet concerts.